Oh I, oh, I'm still alive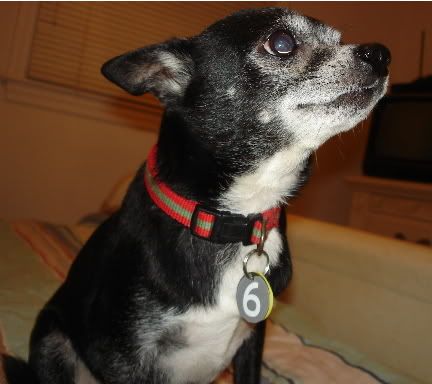 (Doesn't it appear that he's looking up and thinking "Geez, nice white line up there in the photo-crop job.  How long you been doing this blog thing?  I can't believe I trust you with my safety"?)
Wally the terminally ill foster dog moved in with us back in April shortly after my father passed away.  He wasn't supposed to be around long enough to see the Fourth of July, but here it is Christmas and Wally's still kicking around the house.  He's gonna have a good Christmas, and he hopes you do to.
On Monday the "Big Change" will be complete.  I will no longer be posting on teamdicky.blog.com… well except for a friendly post reminding people that I have moved.  Teamdicky.blog.com will still be around for a long time in order to store all the old shit that fell outta my head over the last three years, but I will have nothing new to add.  All of my new posts will be over at TEAMDICKY.COM starting Monday, Decmeber 29th.  Let me say that one more time for the hard of hearing:  THERE WILL BE NO NEW POSTS HERE STARTING ON MONDAY!!!!  ALL NEW POSTS WILL BE OVER THERE!!!!!!  Well, except for the friendly reminder that I have moved, but other than that there will be no new posts.
Why should you be sure to change your sidebars, links, favorites, and wall graffiti to send folks to the right place?  
Things move so fast around here I can't keep up.  Forget spraying the word SPOT on the wall and just cross out the word BLOG.  I'll be at TEAMDICKY.COM next week.
Maybe you want to keep going back and reading my archives.  Maybe you wanna be a stick in the mud curmudgeon… the kind of person who will brag to his friends and say "I liked Bad Idea Racing better when it was on blog.com.  Just watch, this will be just like when Coke brought out the new version of Coke that no one liked, so they named it "New Coke" and then brought the old Coke back and called it "Coke Classic".  "Teamdicky.blog.com Classic" is just around the corner folks.  It's all just part of the plan-o-gram marketing hype used to build drama and increase readership.  Boring."
I promise you that this is not a marketing stunt, a sham to increase readership, or a ruse to lure you into an Amway type pyramid scheme.
Why should you be sure to tune in next Monday to the all new (and slightly improved) teamdicky.com?   I should be able to properly identify my frame sponsor for 2009 by the end of business today.  Being that a four day holiday starts tomorrow I'm just gonna have to keep it a secret until Monday since I'm taking some time away from the computer to spend with family and my bike.  I'm just waiting on one more piece of info to show up in my inbox, and then I'll be able to make the call. 
Dealing with this one potential sponsor has been just like a negotiation you would see in the movies (except that it's taken place in the virtual reality of the interweb).  I wrote down a figure on a virtual piece of paper and slid it across the virtual table.  They picked it up, laughed, excused themselves from the room, laughed louder, returned, and then wrote something down on another sheet of paper.  It was slid across the virtual table where I picked it up and looked at it.  It was a drawing of a stick figure me (I knew it was me because it had big ears) riding a Huffy and crying.  They laughed again.  I drew a picture of their mascot being violated from behind by satan and slid it across the table…  anyways, you can see why this negotiation has taken so long.  We've put the cartoon insults behind us, and we almost have an actual (well virtual anyways) contract for me to accept or decline by the end of today.
and something random that happened yesterday…
Big Worm went out for a ride yesterday on a local trail after his early dismissal from work related activities.  While out on the trail he ran into John from Gainesville, FL.  John said "I think I've seen your bike before.  Was it on teamdicky.blog.com?"
Big Worm called me from the trail to let me know about the events that transpired.  He said that John from Gainesville admitted to being a "closet fan" of my blog?  What does that mean John?  Are you ashamed of me?  Are you in the closet for other reasons, or just a fan who is "in the closet" because you can't afford the whole apartment?  Don't be ashamed John.  There's nothing wrong with reading teamdicky.blog.com… well other than the fact that there will be nothing to read at teamdicky.blog.com starting next week.
So John, when you get back to Florida climb to the highest point in the whole state (it's only like 4.5 hours from your house, but you could hit it on your way home from Charlotte) and scream to the world "I love teamdicky.blog.com, but don't go there, go to teamdicky.com starting Monday to see why I'm such a big fan of Bad Idea Racing and all that is the phenomenon of Team Dicky."  You'll feel a whole lot better then, I promise.
Seriously, it's only 345 feet above sea level, so it shouldn't take too long to get to the top and get it over with.
Have a holly, jolly Christmas.  See you in four days.
LATE EDIT:   Thanks to a local friend (Blair) you can now just go to TEAMDICKY.COM for all future needs.  All links up in the post have been painstakingly replaced for your convenience.  Carry on.
in