Had enough, eh?
There's some more important things to discuss later, but for right now it's time for another…
(not necessarily on Thursdays, but it seems like it always ends up being that way, except when Thursday was Thanksgiving, and this isn't totally a full-on) Sponsor Appreciation Post.
Last item up for bids on The Price is Right:
I came back from my self imposed Ergon probation in the middle of my Sponsor Appreciation series, so this one is outta the normal alphabetical order of things.  Since I'm just getting back into the swing of Ergon things I am a little behind in reviewing the Ergon stuff I'm using.
The BD2 pack has been everything a man (or a very emotionally secure woman) could ask for.  I'm not going into a full-on review here since I'm the 115th person to rave about the fit and function of an Ergon pack, but I'll just say that it is the most comfortable way to carry a ton of crap on your back.  I'm very happy to add that my old Camelbak has been put out to pasture and is enjoying the good life that can only be enjoyed by a retired pack.
Bees meet happy knees (and lower back and shoulders).
So let's talk about those grips for just a gosh darn second.  I'm running the GX1 Leichtbau variety sans bar-end bananas.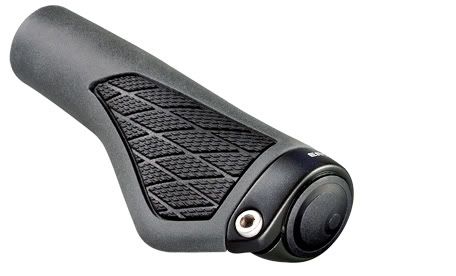 They are living up to the the hype that is hyped on their site, and the hype you might find if you search around on the interwebs.  They do a fine job spreading your weight across the meaty section of your hand instead of just concentrating it in one area.  They are a key element in my wrist re-hab program, and I am convinced they make me a better man. 

I do have one complaint, so they will end up getting the…
Seal of Semi-Approval
The grips come with a lot of packaging.  I realize the intention of this packaging is to allow potential consumers the opportunity to grab the grip in the store so that they can feel for themselves if everything they've heard about the grips could possibly be true.  The problem is when I see all this left over packaging I can't help but wonder what to do with it once I've installed the grips on my bike.
When I look at the shape of the smokey leftover plastic I can't help but think they missed an opportunity to make their packaging serve a dual purpose.  Instead of some semi-useless, odd shaped tubes why not design them to be useful instead… sorta like a giant one of these:
Known as a Slovakian rapach, a Ukrainian derkach, or an American circus noise maker (we're so creative) this fun and easy to use device could easily be incorporated into the excessive packaging and turn it into an item one could not easily throw away.  Imagine all the happy Ergon consumers lined up along the local race course cheering on their favorite racers with their official ERGON GREEN derkach.  Oh, if I only ruled the world what a better world it would be…
Since my packaging is the 2008 variety (I'm hoping the derkaches are coming in 2009) I tried to figure out a use for all the left over plastic.  Both shapes disassemble allowing access to the inside of the cylinder and the ERGON prism.
I'm trying to think of what to put in the thread-on cyclinder.  Breath mints?  Spare spokes for a ten inch wheel?  Maybe some Pixie sticks?  Wouldn't want to crush my Pixie sticks if they're just sloshing around in the back of my BD2… 
It wasn't hard figuring out what to do with the ERGON prism shaped storage device.  I'm using it to keep my Toblerone's from getting stale.
All kidding aside…
Thanks Ergon for the making making products that are useful in making great bike ride. Kermit said it isn't easy being green, but I beg to differ.
AND IN BIG NEWS…..
I'm thinking about leaving blog.com.  I've had enough people complain to me about slow uploads, missing posts, the difficulty of commenting, and all kinds of other things to make me think about the swap.  I've had enough of some of this crap too, and even I have problems getting a comment to show up on MY OWN BLOG.  Of course I'm considering doing this AFTER I took all that time revamping what I already have, but this is BAD IDEA RACING, not USEFUL FORESIGHT RACING.  So I got something started over here.  The post is just a test post, but please go over there and let me know what you think by leaving a comment on that post.  Please let me know it you use blogspot.com (blogger) and what you like about it or dislike about it.  Let me know if you have problems with bandwidth limits, tell me if you like the background/font selection, or just tell me if you think it's easier to leave smart ass (and often times painful) comments.  Please click over and let me know because if it's a happy thing I'll make the swap over the holidays if it's a popular idea (I only do things to please people because I need exteral validation).
Don't worry about all the old posts and archived stuff.  I'm gonna keep this blog alive so all the links on forums, websites, message boards, and carved into trees will still work.  There will just be a message on top letting folks know where I've moved to and how to keep informed of my very dull (but current) happenings. 
So go over to teamdicky.blogspot.com and let me know what you think.  Operators are standing by.
in