Are you "feeling it"?
I am.
There was a time when I could have cared less about race schwag, but that was mostly because I never finished close enough to the front to get anything.  I always thought it would be great to be one of those folks who were rewarded with material goods for their performance on the battlefield, but once I started finishing (occasionally) a little closer to the front I found out the good life ain't so good.  I got scads of odd parts, useless tools, ill-fitting clothing, and things that wouldn't even be worth putting on eBay.  To make things worse the larger (in weight and girth) sector of our population seems to be skewing the BMI bell curve, and now I can't even count on an event shirt (size medium) to fit me.  A medium male is now what we called a "large male" back in the early nineties, so sometimes I find myself going home with a large medium shirt, a pair of tire levers, and some XL shoe covers.
This year the NUE announced that they would be handing out prizes to all the riders who competed in at least four races in the eight race series.  I finished five races and ended up sixth overall in the SS category, so I figured I had at least two sets of tire levers and one odd sized piece of apparel coming my way.  When my box of goodies arrived I was pleasantly surprised.  The rewards for my summer of effort included a Yakima tray, a Thomson certificate, and a pair of Ryders eyewear (more about those later).  The tray was sold, the Thomson certificate was filed in my "Thomson certificates to be used later" file, and the Ryders went on my shelf where I keep all the Ryders and Tifosis that seem to be handed out at races with greater frequency than bananas.
"Sideshow Garth" Prosser (NUE promoter and racing ectomorph) let everybody know they would be getting a custom NUE Cannondale "Feel It" jacket as soon as they were done being printed.  Intrigued, I googled Cannondale "Feel It" jacket to see what would be arriving in my mail box someday soon.  I could find no solid visual evidence, so I let my imagination run wild.  Since I am used to being disappointed when I let my imagination get out of control I envisioned a Member's Only'ish jacket with the words FEEL IT boldly printed across the back in some flashdance font.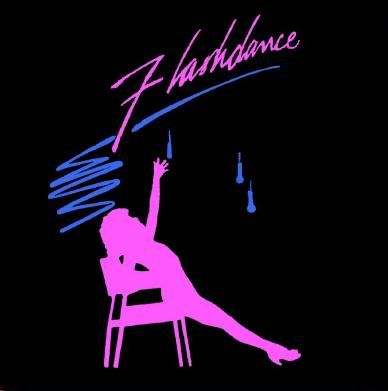 When I got my jacket Monday I have to say I was pleasantly surprised.  I promised Garth a semi-nude photo, but since I didn't want to step on minor league blogger Craig Barlow's toes and use his now famous nude reviews theme I present you a fully clothed image of my new "Feel It" jacket.
"Are you feelin' it?  I sure as heck am."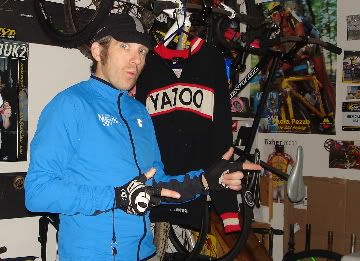 That is not a strategically placed YAZOO jersey in the background.  It is still hanging up from Sunday's ride, and I apologize if you feel the sudden urge to go out and buy some quality YAZOO beer.
Speaking of Craig Barlow…
I am surprised how many people clicked on the link Monday to see him naked.  What's wrong with you people?  If this guy ends up beating me to my goal of being a Playgirl centerfold I will be so let down.  Have you seen a grown man naked?  It's not pretty.
Anyways…
The jacket does not say FEEL IT anywhere that I can find, but it does say "Hey, look out.  Here comes a guy who FINISHED four NUE races.  Make way." without coming right out and saying it.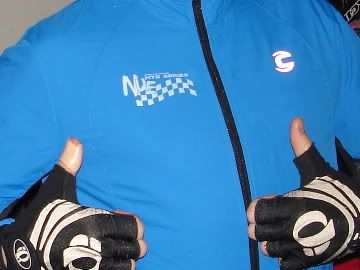 Best thing of all…
It fits.  It actually fits so well that it will become a regularly used piece of gear.  It is windproof (or wind resistant depending on what part of the hang tag you read), and it packs down small enough to fit in a jersey pocket.  I wouldn't necessarily say I'm FEELING IT, but I am LIKING IT.
About those Ryder glasses…
The ones that the NUE shipped to me were the Photochromic lensed Tarmac.  They went on the shelf as I felt they were just a little too Hollywood for my tastes, but I gave them a try on the trail, and as much as I hate to admit it, they work.  I never had a "my glasses are too dark, and I can't see" moment in the woods, or an "Oh my god. I just popped out into a clearing, and I'm blind" moment either.  I feel like a moron (more than usual) when I wear them, but damn it, they work so well I have no excuse to not wear them every time I ride.  I'm gonna have to go ahead and give them my….
Seal of Semi-Approval
Why semi-aprroval? 
Look at me.  Seriously, look at me.
I'm so not "that guy".  I'm not sure what guy I am, but it is most certainly not "that guy" who can pull off these glasses.
I didn't count the votes from yesterday's hose routing poll, but I must say we're all a bunch of winners.  Yinz are some hate spewing folks, so lemme defend the undefendable.
Bubba's set up is partially my fault.  I helped him build the bike as he had never built one from the ground up before.  I had to shove him out the door before the bike was finished, so I sent him out "sheep amongst the wolves" style.  He knows that all he has to do is unbolt the levers and swap it over to be like everybody else, but I think he feels good knowing that every time I see him I get a small headache.
Stabby's set up is totally on purpose.  He has seventy two frames which share all manner of bike parts that range from an XC 29′er to a Shiver equipped death bike.  He learned a long time ago to never shorten his hoses or to cut his steer tubes too short in order to maximaize the usefullness of all his parts on all of his frames.  There's a method to his madness, and a lot of madness in his method.  Few people know this, but he won a lifetime suppply of zip ties in a DIY screened-in hot tub entertainment center lawsuit against Home Depot a few years ago, so he loves to use them whenever possible just to stick it to the man.
in