The shot heard round the world
Was the start of a revolution.
I woulda never thought that my decision to go back to a suspension fork for awhile would have global implications, but thanks to the statcounter installed on the sidebar my team of experts was able to pick up on some of the global chatter.
This was found on a Portuguese forum:
Boas voltas, estou certo que vais gostar da experiência 29er.
Fica aqui um link para um dos mais conhecidos SS 29er, rigidas dos EUA, que agora por problemas de saúde passou a utilizar uma suspensão, mas continua SS: http://teamdicky.blog.com.
Of course I do not speak Portuguese since I am an ugly, egocentric American, so I took the text over to Babel Fish and got a nice loose translation.
Good returns, I am certain that you go to like the experience to 29er. Link for one is one here of the most known SS to 29er, rigid of U.S.A., that now for health problems started to use a suspension, but continues SS: http://teamdicky.blog.com.
There were some other responses discussing whether or not I still had a Peter and a set of Thads, but you get the point.  I think Fox should start sending Mark's royalty checks my way, since I'm changing the way the world thinks about rigid forks.
Sunday I headed up to the mountains with a crew of nine for some Farlow Gap/Butter action.  I really wanted some speedy/deathy action, but I was gonna have to settle for the techy/rocky/injury proney flavor that Farlow had to offer.  While there were three cameras on scene you will get very few pictures due to my lack of desire to link a mess of photos this morning.  Big Worm's got the goods here if you need visual aids (which can not be cured at this time).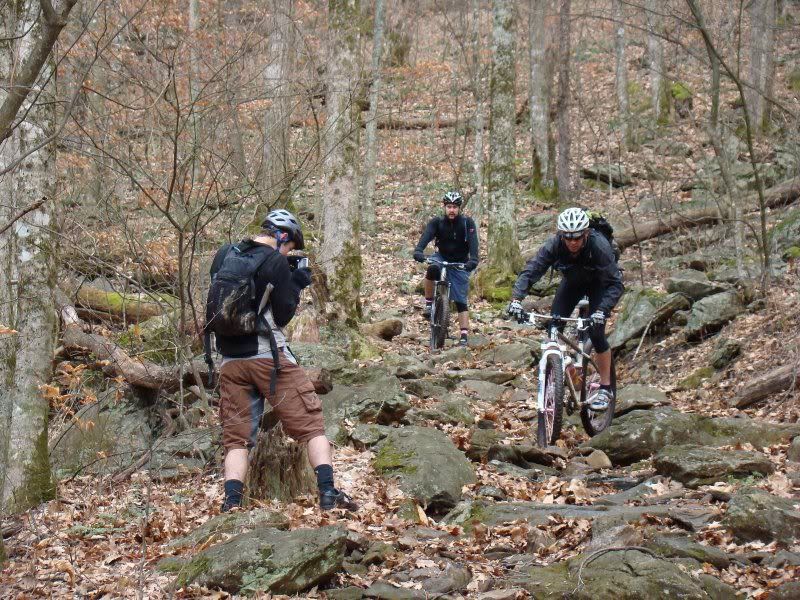 photo: Biggus Wormicus
I was hating the Fjox fjork on the upper section of Farlow.  It's a steep, slow, technical section with no obvious line.  I ended up locking the fork out to keep it from diving into all the holes and gaps, but then the blow-off would activate and scare the shit outta me.  I wanted to put my saddle down, since compensating for all the fork movement was even more difficult with a saddle in my stomach, but alas my racer mentality tells me to always get used to shit with the saddle up.
The craziest thing about Farlow is that we have a race here every year called The Swank 65 that includes this trail .  I've done it a couple times, but every time I RIDE Farlow I'm amazed we raced down this shit.
Hard to be in a hurry when the consequences of one wrong step will send you fifty feet down the mountain.

photo: Biggus Wormicus
When the trail got faster the fork was more tolerable, and dare I say enjoyable.  High speed riding is about the only place I liked having the suspension working.  I found my old sloppy trail habits coming back to me as I lofted the bike as many as six inches off the ground every time I saw a root or rock that could assist me in getting airborne.  Riding with a squishy fork means there are fewer consequences for poor form or lack of a visible clean landing area. 

Photo: The Dude
Ninety percent of the ride I was hating the fact that my rigid fork was leaning up against a wall in Charlotte while I was riding around in the Pisgah on this mechnanized marvel that is so widely embraced by the people of Portugal.  Even locked out I can feel its portliness and pointlessness on the climbs.  On the slow technical stuff I was missing the predictable plodding that a pair of steel legs can provide.  I ended up walking down stuff I woulda normally rode right into, and that shit got to my head.  My wrists better heal up quick cause I think I'm losing my mind this time, that's right, I'm losing my mind.
March.  March at the very latest.  That's what I'm telling myself.  Keep the fork on and suck it up till there's about a month left before the "season".  Keep up with the re-hab program, and it will work itself out.  I know there may come a day when I can't keep the rigid fork, and god forbid, the single speed, but I hope that's at least a decade or more away.  As Big Worm says "I've flipped the switch, and there's no unlearning what I know".   Going back would feel like going backwards at this point.  I'm not feeling the trail anymore, and I know what I'm missing.  It comes to me in a muted form, and it's sorta like listening to Bon Jovi with a pillow over my head.  I can't help but feel a little less Bon Jovial, and that's what life is all about.
Maybe I'll just buy a scarf.  Anybody have a scarf I can borrow… Andrew??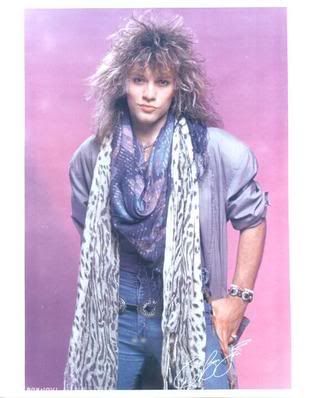 BTW:  Should I change my tagline from Rich Dillen: Unprofessional Cyclist to Rich Dillen: The most known SS to 29er, rigid of U.S.A
Let's have a little poll.  Who has the worst hose routing in all the land?
Contestant number one:
Stabby and his Niner (formally my Niner) with his "no such thing as too many zip ties" routing.  If I woulda thought of it I shoulda got a profile shot so you could see that his brake lines go out so far in front of his stem that they arrive at the trailhead two minutes before he does.
–OR–
Contestant number two:
Bubba Cohen and his Misfit with the "over the bars" style routing.  I think he was using the Misfit Assembly Manual for 'Mericans when he put this thing together.  Either that, or he is messing with me, and this routing is just an attempt to give me a headache whenever we ride together.
Make sure you clicky-make-biggy before casting your vote.  If you don't you may not see Stabby's 342 zip ties that are holding his whole shitstorm routing together.
in